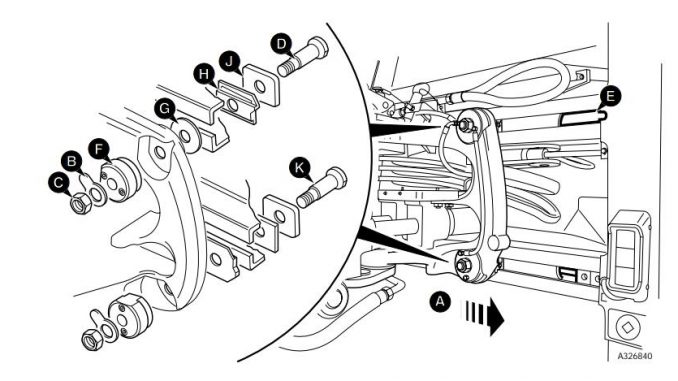 JCB Backhoe Loader 3CX, 4CX, 214e, 214, 215 217Power Sideshift – Wear Pad Renewal Inspection (1000 hours)
When the wear pads are worn to 6 mm (0.23 in) or below they should be replaced.
It is permissible to rotate the top wear pads 180° to prolong service life, provided the contact surface is more than 6 mm (0.23 in) thick.
Note: If rotating the wear pad the grease nipples will have to be swopped over.
JCB Service Master4 V23.2.1(02.2023) Diagnostic Software
1 Park the machine on firm level ground, engage the parking brake and set the transmission to neutral. Lower the loader arms to the ground.
2 Set the carriage fully to end of travel A, shown in centre position for clarity.
3 Lower the bucket to take the weight off the kingpost.
4 Switch OFF the engine and remove the starter key, operate the control levers to vent residual hydraulic pressure.
5 Unlock top lock tab B and unscrew nut C.
6 Remove bolt D through the slot in the rail E.
7 Hydraulic clamp F and washer G should remain in position.
8 Remove plate J and wear pad H. Assembly
9 Fit wear pad H, plate J and bolt D.
10 Fit new lock tab B and fit nut C.
11 Set the hydraclamp clearance as described in Sideshift – Hydraclamp Clearance Setting.
12 Repeat procedure steps 5 to 11 for the bottom clamp. The only difference on the bottom clamps is the wear pad is on the opposite side of the rail from the top clamp so bolt K need not be completely removed.
Note: If the wear pad is trapped between the rail and carriage, lower the bucket to relieve the load on the wear pad.
13 Lift the bucket and set the carriage to the opposite end of the travel, repeat the procedure for opposite side.
14 When all clamps have been assembled recheck the hydraclamp clearance of all clamps.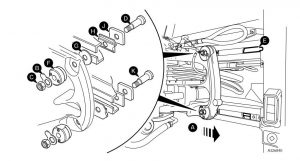 If you want to learn more about Heavy Duty Diagnostic , welcome to contact with us: Service@autonumen.com , or you can check on our store: autonumen.com .Thanks!