Good news! Porsche Piwis Tester 3 software updated to V42.100.02+V38.250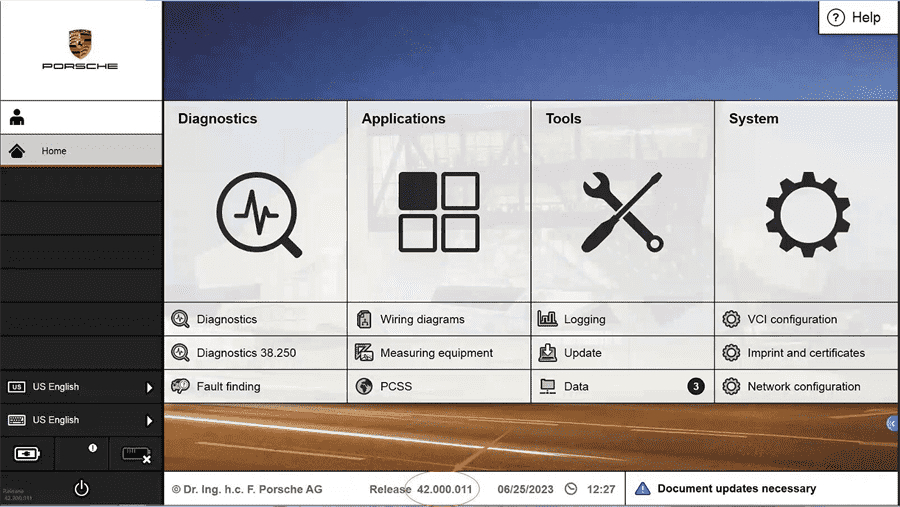 Porsche Piwis3 is the latest diagnostic tool on the market for professional diagnostics and programming of electronic control units of Porsche cars. This advanced assembly offers a wide range of functions and advantages that make it an essential tool for any automotive professional.
One of the main functions of the Porsche PIWIS TESTER is its full FAP diagnostic protocol. This allows users to perform comprehensive diagnostics of Porsche cars, ensuring that all electronic circuits are properly functioning. With this tool, users can read, decrypt, and delete fault codes, providing a thorough analysis of any issues the vehicle may be experiencing.
Additionally, the Porsche PIWIS TESTER offers the ability to reset service intervals, ensuring that maintenance is performed at the appropriate times. Users can also view and save the current data stream, allowing for detailed analysis of the vehicle's performance. Freeze frames of malfunctions can be viewed, providing valuable information for troubleshooting and repairs.
The Porsche PIWIS TESTER also allows for tests of actuators and electronic components, ensuring that they are operating correctly. Guided troubleshooting is available both online and offline, providing step-by-step instructions for diagnosing and resolving issues. Users can also adapt and code electronic components and car elements, and activate or deactivate components as necessary.
Another advantage of the Porsche PIWIS TESTER is its ability to retrofit cars, allowing for the coding of new elements and features. The tool also provides the capability to remove protection of partners, granting online access to the Porsche Partner Network (PPN) when required. Firmware and software updates for electronic control units are included, ensuring that the tool remains up-to-date and compatible with the latest Porsche models.
The Porsche PIWIS TESTER supports the programming of immobilizers and keys, offering added convenience and security. Wiring diagrams of Porsche cars can be easily viewed, aiding in the diagnosis and repair process. PPN Online Support is available for assistance with any technical issues or questions.
Furthermore, the Porsche PIWIS TESTER supports coding and programming of Taycan and Cayenne E3 models. It is also compatible with cars until 2023, ensuring its longevity and continued usefulness. The tool offers an engineering programming mode for electronic control units, providing advanced capabilities for professionals.
To enhance usability, the Porsche PIWIS TESTER comes with a full driver pack for any PC, eliminating the need to search for specific drivers. Additionally, the tool includes PETKA 2022, an integrated spare parts catalog and price list that can be updated online for free.
The Porsche PIWIS TESTER 3 program allows access to the desktop, ensuring seamless integration with the computer. Firmware updates for E2 and E3 body models are available, ensuring compatibility with a wide range of Porsche vehicles. With an image size of over 110 GB and a system size of over 200 GB, the Porsche PIWIS TESTER offers the most complete version of the original tool.
The latest version of the Porsche PIWIS TESTER includes updates and firmware databases for various Porsche models, including E2, E3, Taycan, Macan, Cajun, 992, and 918S. This ensures compatibility with the latest models and allows for comprehensive diagnostics and programming.
Support for online updates of the Porsche PIWIS TESTER is provided, ensuring that users have access to the latest features and improvements. The tool also includes a firmware database and advertising campaigns, providing additional value and convenience.
Overall, the Porsche Porsche Tester Piwis III is a profitable investment for any automotive professional. With its comprehensive diagnostic capabilities, advanced programming features, and compatibility with a wide range of Porsche models, this tool is essential for ensuring the optimal performance and functionality of Porsche cars.