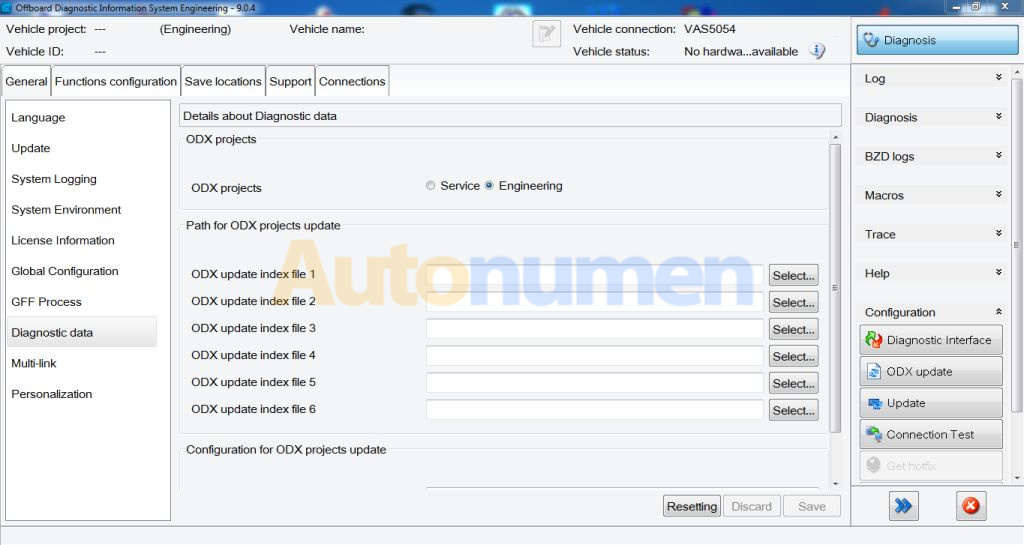 Here is the latest ODIS S 5.0.4 and ODIS E 9.0.4 download link for you guys with VAS 5054A heads and the like.
Free download ODIS Service 5.0.4:
https://mega.nz/#!gDA2AQBa!F5N-2XtHqMC-jdS9pLCHjRbKGj3MEpXb5kN_bp2sPrE
Free download ODIS Engineering 9.0.4:
https://mega.nz/#!MCRAzQLa!NrIwnu2PEs1oqvmVTVscRYRMj_m7KVC0FZtaB7QCjtc
Tip: ODIS S 5.0.4 ODIS E 9.0.4 is newest but not tested yet.
If you want diagnosis with relief, ODIS S 4.4.1 and ODIS E 6.7.5
FAQs: ODIS S 5.0.4 and ODIS E 9.0.4
Q: Expiry date?
A: Year 2030
Q: it is written that keygen is missing. Can you give any install manual for making this version of ODIS-E work and why do we need files, such as "Windows Update", "VAS5054 сборка" and "Vehicle Mapping"?
A: There is no need for keygen. Download it using Utorrent and everything is there. Some files are no need just incase some user never did update on there PC. So, they might need that.
Q: can any one tel me the steps for instalation?
A: you can google it or youtube it.
Q: what version of postsetup ODIS Engineering 9.0.4? and ODIS-Service 5.0.4 ?
A: once you download it u can see the postsetup version there.
Q: why do we need files, such as "Vehicle Mapping"?
A: This is most wanted file for Odis-E. It shows what project to choose for current car.
Q: the soft installs well, the problem I have when wanting to open the program is ODS9031E infrastructure. Online connection VW. Mirror server 2
A: If this happens during installation of post setup, try to choose English US.
Q: for what brands is this??? include bentley, bugatti, lamborghini???
A: For all 9x brands……..
Q: Anybody else got the antivirus notification
A:
Quote:
Trojan:Win32/Occamy.C
inside of:
Quote:
\03. Launcer+license+plugins 5.0.4.rar->Launcer+license+plugins 5.0.4\OffboardDiagLauncher.exe
Q: Install for Odis E worked like a charm, but did anybody else experienced that the postsetup for Odis S takes ages and ages?
A: Odis-E always takes around 5-10 mins to installed the postsetup but the Odis-S takes always around 30-40 mins (for all the brands)………
Odis-E is fast because using only the basic simply diagnostics GFS (guided functions) since other is his role…………
Q: The postsetup file seems very small compared to earlier versions of ODIS(E). Is it complete?
A: It is smaller because is the correct one and not like all the other and modded/home made with craps………
The Odis-E PS always was maximum 800mb……….
Q: How does the odis HW ID work. if I start it, nothing happens.
A: Actually when you start HW ID this app makes special code which helps to create a correct license.dat file.
You just need to start this file to load all nessessary info into clipboard.
Q: I get an error message in ODIS E:
"Error reading the license file. Could not parse certificate
java.io.IOException: Empty input
This license is invalid"
A: You not applied (replaced) the required cracked files or if you made this then you using bad license file……..
Q: Can I install it on the WIN10 system?
A: need luck if with a clone vas 5054. most said No, but i installed under win 10 x64 with clone 5054 and everything working fine, im just use another PID
Q: An error with one of the software components was detected. The ODIS Service installation will be removed again. Uninstalling the vehicle connection (VW MCD, PDU, API) will be attempted first. This may take several minutes.
A: Unistall all the microsoft VC++ and then start your installation………
So now you must uninstall the half's that installed and then to restart your installation………
Q: where to put ODX files?
A: If you did not add any projects with copy paste or unzip to folder C:\ODIS-DIAG-MODULES-ENGIN\MCD-PROJECTS-Engineering\DSVR-ProdiMCD, you can add it easy.if you have ultra iso app ,mount project iso file to virtual cd rom.in every car mark folder you see many zip files with projects and one odx index file.Start engineering launcher. go to the directory what you see in picture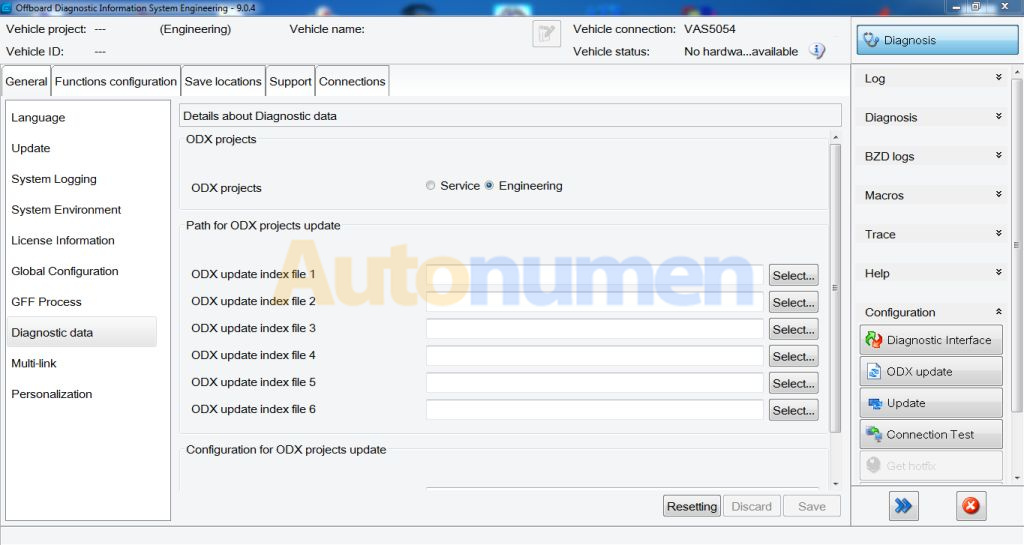 and press select button and select your virtual Cd rom directory what you have. And select folder and odx file in your folder what you need …Its like adress to directory with project zip files..and application understand where it can update odx files. then press save button.and go to configuration, you can see it right side in the picture. then press odx update button, you will see open new window with list with projects then press start.It is update and restart the program and its done.
Q: anyone have problem with 2 different language?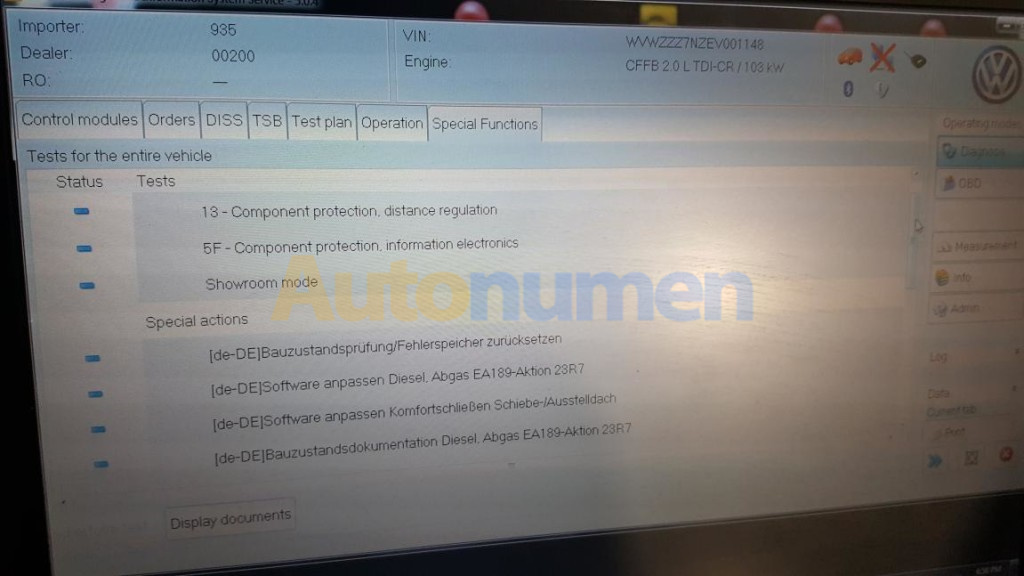 A: During my recent work on a Skoda Rapid, after scanning and going into GFF, the language changed from English to Deutsche. However, the ODIS version was 4.3 so maybe even in this version, some special function still are in the original language.
the problem is for the beginning with the installation.. if you don't select nothink on language, it select automaticly german language.. I installed again and select English Gb and is working fine!