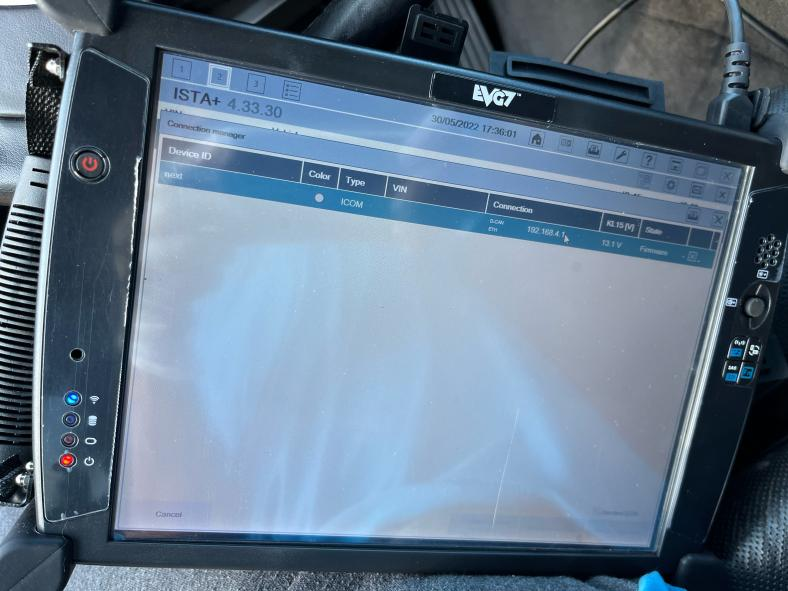 The problem from our customs: I am having problems setting up having problem communicate with ICOM it's not connecting so I need to get help from you
Solution way: upgrade the firmware, please refer to the steps below.
Step 1:
Step 2:
Step 3:
Step 4:
Enter the BMW ICOM address of the first step,
Such as: http://169.254.92.38:60080
Must remember to add to the port (:60080)
Step 5:
A login window will pop up after connecting to ICOM
Username: root
Password: NZY1150263 (Note: case sensitivity)
Step 6:
Enter the ICOM internal setting interface, select the "Update Fireware" function to start the firmware upgrade
Step 7:
Original firmware version
Enter the firmware upgrade function menu, click "Browse" to find the upgrade firmware file
Step 8:
Step 9:
First select the file of ICOM-BootImage and open it
After selecting the firmware file, click "send the file". At this time, because the file will be transferred from the computer to ICOM, the browser will freeze and wait for the next interface.
Step 10:
Click yes, and start to upgrade ICOM-BootImage, the upgrading the browser also will stuck, don't move, wait for the next interface to appear
Step 11:
Wait until the interface comes out
Click "Update Fireware" to return to the firmware upgrade interface
Step 12:
Click to browse again
Step 13:
Choose "ICOM-ApplicationImage" file and open it
Step 14:
Click "APPLICATION"
Then click "Send the file", and it will be stuck, but the next interface will appear after a moment
Step 15:
Click"YES" and start to update"ICOM-ApplicationImage"
Step 16:
Click"reboot" and reboot
When this interface appears, the upgrade is complete.
Step 17:
ICOM restarting, close the browser