MB SD Connect C4 package shows:
MB SD C4 Multiplexer
OBDII 16PIN Cable
38PIN Cable
14PIN Cable
8PIN Cable
Lan Cable
SD C4 2014.03 HDD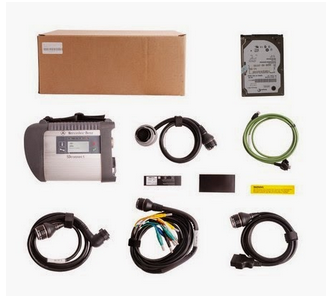 MB SD Connect Compact C4 supports reading out & erasing trouble code, reading the real-time data of sensor and actuator, coding and programming with WIFI.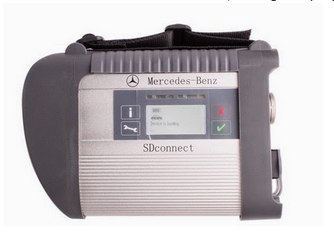 MB SD Connect C4 functions:
1.1989~up to now Car, Bus, Truck, Sprint, Smart ,
2.All electric system Diagnostic,(Do not include flash code)
3.reading trouble code
4.erasing trouble code
5.live-data
6.adaptation
7.component testing
8.maintenance
9.information consultation
10.component location diagram
11.wiring diagram
New version mb sd connect c4 new features:
1. Compeletely new HDD with 320G compacity.
2. Newest software version: V2014.03
3. Update some Benz System data like:
205/231/414/230/169/453/215/222/164/639/246/461/124/163/207/242/447/211/129/454/203/204/172/251/170/452/219/166/221/638/202/
220/240/212/197/415/245/208/450/463/117/216/176/210/451/209/218/463/636/171/168/199:Xentry
4. Fix bugs.
Firmware version: V2.2.2
(This is the best quality one on the market, it can support hardware update)
MB SD Connect C4 firmware function:
1. New MB SD Connect Compact 4 Star Diagnosis not only support K line diagnose and CAN BUS,but also UDS diagnose protocol. Because old MB STAR C4 main board do not have UDS chip, so old MB STAR C4 can not support it,
2. New MB SD Connect Compact 4 Star Diagnosis support wireless diagnose,
3. Multiplexer now use Lan cable to connect, can not use on IBM T30 laptop.
4. Connector adopt Military quick swap technology, it can support 10,000 times pull plug, more stable,
5. All core accosseries adopt original new packing chip, and 24 hours test, guarantee the quality of the products.
MB SD Connect C4 Software Language:
English,Croatian,Czech,Danish,Dutch,Finish,French,German,Greek, Hungarian,Italian,Japanese,Korean,Polish,Portuguese,Romanian,Russian,Spanish,Swedish,Turkish,Chinese.
Software Selection:
1. DELL D630 laptop: 2014.03 D630 HDD
2. External Hard Disk 2014.03