MB Star Diagnostic Tools MB SD C4 Mercedes Benz diagnostic tool, work on both Benz cars and trucks till year 2014. MB SD Compact CE includes Xentry, DAS, WIS, EPC ect.
Folloing Multi-language available to both xentry and DAS system:
English, German, Greek, Spainsh, Finnish, French, Hungarian, Italian, Swedish,Danish,Dutch, Polish, Portuguese, Romanian, Russian, Serbo, Slovak, Slovenian, Turkish,Czech, Japanese, Korean, Chinese
Someone may has noticed that there is only English available for DAS on laptop desk. Do not worry about this. You need to set DAS language from Xentry system:mb-sd-c4-das-langauge-setting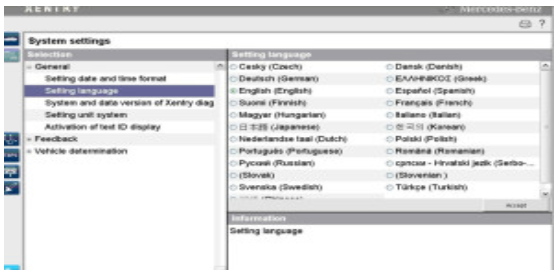 Enter into Xentry you are allowed to set the language you want. Just enter into Xentry whatever car models you want to diagnose, and if the car model should be diagnosed and programmed in the DAS but you enter Xentry, it will automatically switch into DAS and the DAS language will be as the same as the Xenty language.
More MB SD Compact C4 information and Technical Support, please check it here:https://www.autonumen.com/category-163-b0-MB+Star+Compact+C4.html