Lonsdor K518ISE key programmer, English version of Lonsdor K518, will soon be available in the end of this October. Professional locksmiths will take advantage of its wide coverage in key programming as well as odometer adjustment on more than 10 car brands. Lonsdor K518ISE is winner comparing with many similar tools because it comes with Volkswagen 4th 5th adapter and chip & remote detection module, besides it can program Toyota/Lexus smart key all key lost via OBD by working together with extra SKE-LT Smart Key Emulator.
Picture means a lot here is Auto key Programmer Lonsdor K518ISE full package: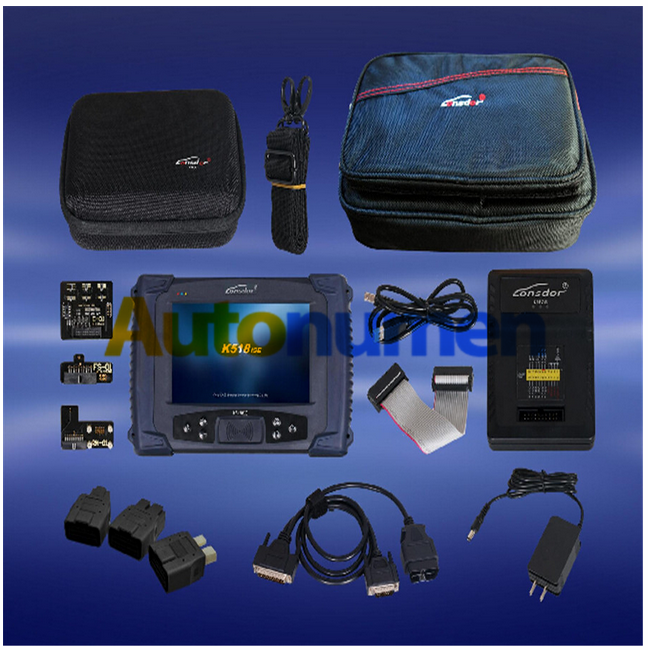 Package list:
1* Portable Bag(big)
1*Main Host
1*Power Adaptor
1*USB Cable
1*Packing Bundle
1*OBD Test Cable
1*Extra Connector
1*User Manual
1*Portable Bag(small)
1*KPROG Adapter
1*RN-01 Board
1*E-01 Board
1*FS-01 Board
1*20P Cable
5*Backup Pin
1*Certificate
Attach Lonsdor K518ISE unit diagram: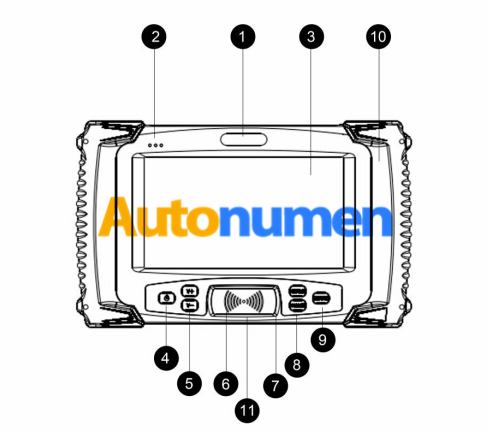 As you can see, Lonsdor K518ISE is very nice and user-friendly, it has many nice features:
With big nice capacitive touch screen(3)
Allow user to screen shot by pressing power button (4) and volume down button (5) together.
Allow user to detect key frequency and recognize chip (11)
Source: http://www.eobdtool.co.uk/wholesale/lonsdor-k518ise-key-programmer.html
K518ISE Price: about 1200USD
K518ISE Update: online update on official site
Lonsdor K518ISE Tokens: Does not need Tokens
K518ISE Communicate method: via USB cable or WIFI (10m)
Lonsdor K518ISE capabilities:
Immobilization……OK
Odometer adjustment……OK
Built-in-in Volkswagen 4th 5th adapter……OK
Built-in Chip & remote detection module……OK
Lonsdor K518ISE key programmer can work on many high-end cars such as:
Volvo (S40, S60, S80, XC60, XC90, C30, C70, V40, V60, V70) key programming.
Toyota/Lexus: smart key all key lost – via OBD ( without dismantle)
BMW CAS3/CAS3+/CAS3++: direct OBD programming
BMW CAS4/CAS4+: dismantle & read data programming
16 -New Maserati: smart key programming
16 -New Ford: smart key programming
Hyundai / Kia 46/47/8A smart key: PIN code reading via OBD, all key lost included.
Renault ( Megane, Koleos, Scenic) without PIN code key programming
VAG group 4th & 5th immobilizer system
Ferrari (458, F12, F149): direct OBD programming
Peugeot /Citroen: two ways to read PIN code & programming, all keys lost included.
Lonsdor K518ISE immobilizer car list:
Europe:
Audi, BMW, Benz, VW, Volvo, Citroen, Ferrari, Maserati, Fiat, Lamborghini, Jaguar, MG,
Land Rover, Bentley, Lancia, Opel, Peugeot, Porsche, DS, Renault, Alfa Romeo, Smart,
Borgward
America:
Cadillac, Chevrolet, Dodge, GMC, Buick, Hummer, Ford, JEEP, Lincoln, Mercury
Asia:
Honda, Hyundai, Isuzu, KIA, Lexus, Mazda, Mitsubishi, Nissan, Ssangyong, Subaru, Suzuki,
Toyota, Shigaoka Queen
China:
Iveco, Trumpchi, BYD, Geely, Chery, Great Wall, Young Lotus (Basically all Chinese car
models are included)
Lonsdor K518ISE odometer adjustment car list:
VW, Porsche, Ford, Jaguar, Land Rover, Mazda, Audi, Renault, Hummer, Hyundai, Kia…
Note: more high-end cars will be updated very soon.