BMW ICOM NEXT and BMW ICOM A2 both can work with the same software ISTA-D ISTA-P for the same BMW vehicles. But they are kind of different from some aspects, especially firmware adaption. Such as :
(1) ICOM NEXT Functionally compatible to BMW ICOM A2
(2) ICOM NEXT Mechanical design similar ICOM A2 
(3) ICOM NEXT Backwards compatible to car adapters (BMW ICOM B, C) and motorcycle adapters (ICOM D, E)
(4) ICOM NEXT ABC SPECS:
Zeroization of data on tamper detection
Secure supply chain assurance
Key storage using physically un-clonable function
CRI Pass-Through DPA Patent Portfolio
Advanced cryptographic Services
(5) Improved Functionality and Performance:
Gbit workshop LAN,backwards compatible
Preparation for Gbit LAN on vehicle OBD(cars do not yet supportthis and interface not yet defined,ICOM Next hardware adaptation will be necessary for future Gbit car interface,will cause adaptation costs)
Faster start-up times and high throughput
Through high-performance,low-power ARM SoC
Improved handling
More flexible OBD cable
Lighted button for logs etc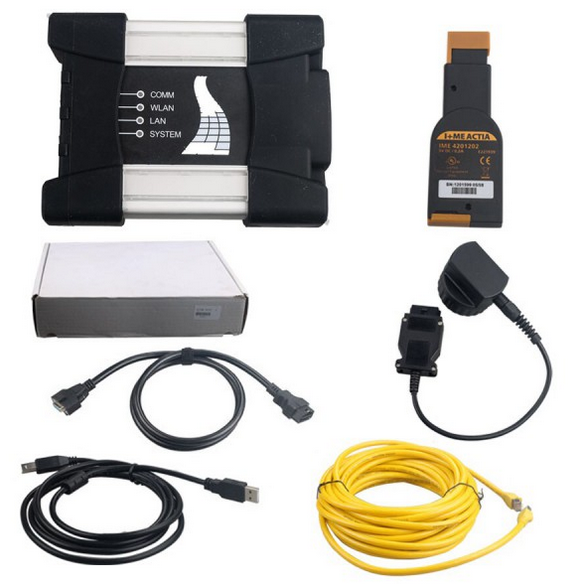 Reference for ICOM Next restore:
1.It need usb 2.0 or usb 3.0 flash drive formatted with FAT32.
2.Copy ICOM_Next-rootfs-xxxxxx.tar.gz and ICON_Next-app-xxxxxx.tar.gz to the root of usb.
3.Please make sure BMW Icom have disconnected from power supply.
4.Plug USB drive into ICOM NEXT.
5.Press and hold the button on ICOM NEXT and connect it to the OBDII of a vehicle.
6.Keep the button pressed after about 4 second all LED turn to orange/yellow.
7.Release the button and then press it 3 times within 5 second.
8.Wait for around 5 until the led's turns green.
https://www.autonumen.com/goods-6983-BMW-ICOM-NEXT-A-B-C-with-Software-Plus-EVG7-Tablet-PC.html